It's the goal of every church to create a worship space that's inviting and inclusive. But finding the right church seating layout can be challenging, even if you have a large space. Finding the appropriate layout requires careful consideration of your members' preferences, your seating capacity and the way sermons are delivered. Here are some important things to consider when choosing your church's seating layout.
Seating Capacity and Layout
When choosing your church seating layout, one crucial thing to consider is your seating capacity. Your church's seating capacity will play a big role in the layout you choose. 
Why?
A large, spacious church may have room for wide aisles between rows and more creative seating layouts, but a small church seating layout may have less space in between rows to maximize capacity.
If you're unsure of your church's seating capacity, review our guide on calculating seating capacity. 
As a general rule of thumb, each attendee should have seven square feet of space to ensure comfort and functionality. For maximum comfort, each row of chairs should have 42" between them. Having this much space between rows will allow members to pass by people who are already seated. But if your goal is to maximize capacity, leaving 36" between rows may allow you to add a few additional rows of seating to the space.
Always keep your capacity in mind when choosing your seating layout, but don't forget to consider the following:
Whether comfort or capacity is the priority. 

Room for growth. Is your congregation growing and if so, how quickly is it growing?
While capacity is important, it's just one piece of the puzzle. Orientation and location will also play a major role in your seating layout.
Location and Orientation
The location and orientation of your seating will have a great impact on your church seating layout. Traditionally, sermons would be given at the altar situated at the far end of the church. The layout is generally similar to any stage event.
Today, more modern churches are opting for creative chair seating arrangements church. Some give sermons from the center of the room to make the entire congregation feel like they are a part of the experience. Round and table seating can help create a more inclusive space that feels welcoming and inviting.
The key is to ensure that all members of the congregation can see and hear the service clearly. 
Here are a few seating layouts that maximize the space's location and orientation:
Tables: Table seating is a great way to encourage members to connect while also keeping them at a safe distance. Ensuring there is adequate space between each table will make the seating comfortable and easily accessible.

Round: For churches with center platforms or stages, a round layout is ideal. Seating can be oriented towards the center of the room and grouped into rows of 4-5 seats. 

Straight Rows: A classic seating layout for churches is straight rows. Straight rows work well in most gathering spaces. Seats face the altar or stage, with spacious aisles between each group of seats.
The location of the altar or stage will influence the orientation of your seating and how it's arranged. But comfort and accessibility should also be taken into consideration.
Accessibility and Comfort
When members attend services or events, you want them to feel comfortable and you want your seats to be easily accessible. This is especially true for a small church seating layout.
In some churches, comfort and accessibility are far more important than capacity. When churches feel inviting, inclusive and comfortable, members are far more likely to attend services and events regularly.
For maximum accessibility, it is crucial to ensure there is enough space between rows and aisles for members to pass through. Having a mixture of traditional rows or pews and tables will give members more flexibility in their seating.
Aesthetics and Design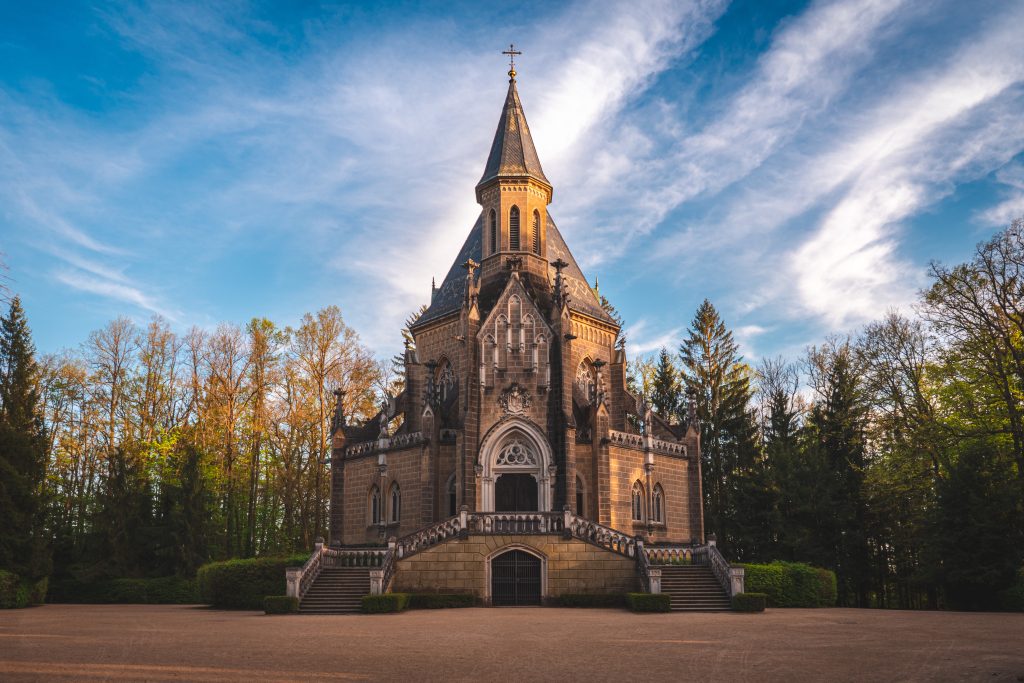 Your church seating layout must be appealing, too. A lot of time goes into choosing the right location, orientation and accessibility of the chairs that you have, but there is a lot more to consider.
A sanctuary has its own colors and décor that needs to match your chair seating arrangements for church. It's important to consider your:
Aesthetics

: Visually appealing seating is important. You must choose a chair that matches your sanctuary's color scheme. Designers will work with you to find the right color combinations for your seating. Our

SUMMIT Series 7741-X

chair comes in a wide variety of neutral colors that will fit perfectly in any sanctuary.

Design

: The seating that brings your layout to life must be designed for function. For example, our

SUMMIT Series 7761-X

is designed to be stacked 6 to 8 chairs high and can interlock to create a pew-like seating option. These two design features make your seating far more adaptable for future design changes.
The design of the seating option you choose is crucial to your seating's versatility and flexibility. If you cannot adapt your seating layout or chart, it will be difficult to meet a congregation's growing capacity needs.
Flexibility and Adaptability
Church layout seating capacity changes over time. In recent years, membership has fallen, and this has led to more intimate seating options. Your layout should be adaptable, allowing you to expand or contract your seating to best serve your congregation.
When you create a seating chart church diagram, consider:
Small membership numbers

Medium membership numbers

Large membership numbers
Why?
Over the years, your seating requirements are likely to change. If you make plans from the start to have flexible seating arrangements, it will make it easier to adjust for congregation sizes that may change year after year.
Adaptability will allow you to adapt your congregation's events, offer more to members and do it all with seating that you can place in the room and stack away when you need more open space.
The Importance of Maintenance in Prolonging the Life of Church Chairs
You'll spend a lot of time focusing on church layout seating capacity, but you must consider chair maintenance, too. Our chairs are made with superior metal chassis, poly arm caps, retractable ganging and an unmatched lifetime warranty.
Yet, you must maintain your chairs if you want to ensure that they reach their maximum lifespan.
We recommend the following maintenance to keep your chairs in the best condition possible:
Inspection

: Spend time inspecting each of your chairs. If you notice any damage to the frame or upholstery, you should put these chairs aside for maintenance. You may be able to return the chair under the warranty period to have the item fixed or replaced.

Tighten

: Check each of the T-nuts that attach the back and seat to the frame. If they are loose, tighten them until they're snug. Keeping your chair's hardware in good condition and tightened will help prevent breaks and potential safety hazards.

Clean

: Fabric will become dusty, attract hair and need to be cleaned. Choose a fabric cleaner that is designed for the chair's fabric. Routine cleaning will keep your upholstery in good condition for longer.
If you perform these basic tasks on a weekly basis, you'll be well on your way to maintaining your chair like a professional. We also recommend having a few spare chairs available just in case one of your chairs breaks or needs to be sent back to the manufacturer to be repaired.
Summary
Church seating layout strategies must meet the needs of your congregation. If your seating is flexible and versatile, it will empower your sanctuary to adapt to meet the needs of every function.
Chairs are a powerful option because you can add or remove chairs for any event you choose, such as:
Sermons

Mass

Weddings

Group events

Etc.
Once you have a seating chart that you believe meets the needs of your church perfectly, you have one more thing to do: maintain your chairs.