Showing all 4 results
Function with Easy Setup and Take Down.

The TBL-060 Folding Church Table gives you the best of both worlds. Accommodate 8-10 chairs around the table for maximum capacity and take down is a breeze as up to 12 tables can stored and put away on the SW 60 Table Dolly.

•  Fully Assembled
•  60″ Diameter Round Table
•  Tough Polypropylene Plastic
•  Compact
•  Store Up-to 12 Tables on SW 60 Table Dolly
•  Available in a 71″ Diameter – Model: TBL-071 Round Table

For a complete list of features, please see 'Key Features' tab below.
Church tables offer your sanctuary a place to offer guests food, education and even reading scripture. Folding tables provide your congregation with many benefits:
Save space by folding tables and storing them away when they're not in use
Expand the opportunities of your sanctuary with tables
Divide spaces for various activities, such as potluck dinners, bible studies and more
Choosing the right table for your congregation will maximize your space and allow it to be more versatile.
Types of Church Folding Tables
Folding tables allow your church to save space, and there are a lot of options to choose from. However, the main difference between most tables is the material chosen in its construction:
Metal
Plastic
Blow mold
Etc
Metal tables are notoriously heavy and cumbersome, while some cheaper plastic options are known to crack and break.
Our blow mold folding table is designed to eliminate the flaws of modern tables by offering:
Lightweight design that makes it easy to transport the table

Blow-molded design to add additional support and strengthen the table

Gravity locks on the table's legs for added safety and security

Legs capped with castors that protect flooring from being damaged by the table
When customers choose our blow mold option, they can be confident that we provide a world-class warranty on all of our products. We take pride in our product's construction and have strict quality assurance measures in place.
There are a lot of reasons to choose a blow mould table by ComforTek.
However, the main beneficiary is your congregation, who will have the table space for activities. Host a dinner for congregation members, a potluck for the community or Bible study with tabletop space to accommodate every occasion.
Why Choose Blow Mold Folding Tables from ComforTek?
Churches require a lot of furniture to make the space comfortable and welcoming. Organizing your space requires planning and foresight into what your congregation can become.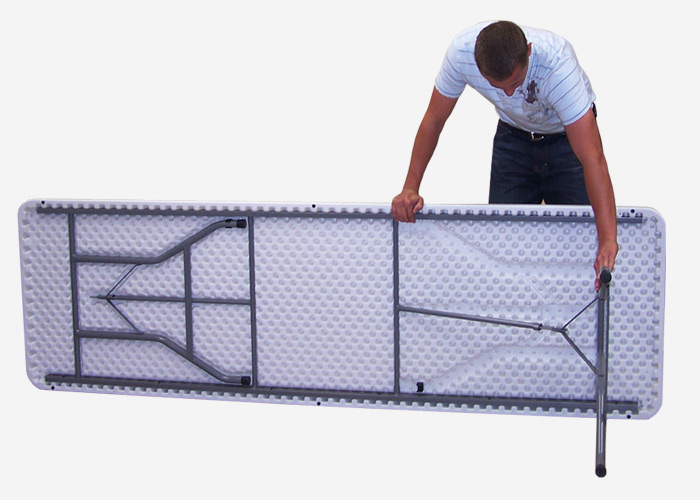 Folding tables by ComforTek offer you:
Reliable tables that can be used for any function

Affordability to fit into the budget of small and large congregations

Financing options to allow your church to secure church tables and pay over time
Quick, easy and affordable, our folding tables are designed to maximize your House of Worship's space.
Contact us today to learn more about our folding tables.
FAQ
What materials do we use?
Our durable church tables are made from steel and a tough polypropylene plastic. Polypropylene has excellent impact strength and is waterproof, which makes it a great option for tables that will be used outdoors.
Steel tubular legs add even more strength and durability.
What determines the delivery time?
The delivery time of your folding tables will depend on several factors, including:
– Your location
– Our inventory levels
– The shipping company
If we have enough tables in stock, delivery is quick. However, bulk orders may require more time.
Shipping companies also have their own factors that may affect delivery time.
How will you ship my folding tables?
How we ship your order will generally depend on the size of the order. We may use box, bulk or palletized shipping.
We use only reliable shippers for our church tables, and we take every precaution possible to protect your tables during the shipping process.
We also offer shipping options that include the unpacking of your table, but this option is not included with our standard shipping.
Will I get a warranty on my brand new folding tables?
We take pride in our craftsmanship, which is why all of our folding tables are backed by a 10-year warranty on the construction.
Our warranty request process is quick and simple, and can be completed online.
Why choose ComforTek?
ComforTek has been in business since 1999. We specialize in church furniture. Quality and customer satisfaction have always been our top priorities. Our extensive warranties and numerous options for customizations make ComforTek a top choice for sanctuaries.