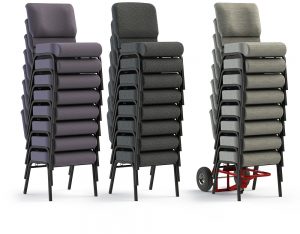 Church Pews vs. Pew Chairs
Remember the old-fashioned church pews? Made with varnished pine, stretching the length of half the sanctuary, padded with that red velvet cushion that never quite stayed in place? Well, church seating has come a long way and for the better. Pew chairs have all but replaced the older style pews. Adding a long overdue comfort to auditorium seating, people can sit for longer and with greater ease.
ComforTek stands as the industry standard in the design of pew chairs for church events. For over twenty years, we have remained committed to providing worship centers with the finest in pew seating for an affordable price. From the long-lasting cold-cured foam inside the chair to the sturdy construction of the steel frame, you will find no better church pew chairs available in the marketplace today.
Benefits of Pew Chairs by ComforTek
But what is a pew chair? It combines the concept of the long, bench-style pews with the modern comfort of individual seating. These interlocking church chairs allow churches to create stadium symmetry without compromising personal convenience. The metal flanges located along each side of the chair are designed to hook into one another so that a row of chairs can be aligned and not become separated. At any point, they can also act as standalone chairs that you may position anywhere in your church building.
We take great pride in the quality of our work and our products. As such, every chair that ComforTek manufactures comes with its World-class Warranty.
Looking for new pew chairs?
ComforTek has made over 3.5 million chairs and proudly serves our many communities of faith around the world. Whether you need pew chairs for a smaller church or are outfitting a much larger church theater, ComforTek can exceed your expectations.
If you have any questions about ComforTek's line of worship seating solutions, feel free to contact a sales rep today at 1-888-678-2060.