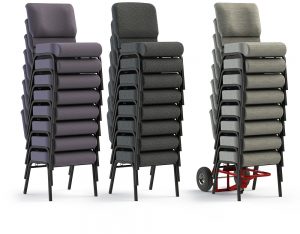 Why You Need Stackable Chairs
So much happens in a church beyond Sunday morning. From Bible studies to potluck dinners to raffle sales to weddings and funerals, the church can be a busy place throughout the week. The need for quick and deployable chairs is obvious, but when the events are done, those same chairs also need to be stored away conveniently until the next event.
Benefits of stacking chairs for churches by ComforTek
Fortunately, ComforTek can provide numerous types of stackable chairs for virtually any occasion. Whether it's simple and sturdy, or padded for comfort, our stackable church chairs will provide you with years of convenience and reliability. Stacking chairs for churches can provide you with the ability to hold:
Wedding or funeral receptions
Holiday events
Family reunions
School recitals
Church business meetings
Youth group activities
Community gatherings
…and much more. Our padded stackable church chairs can serve many events where comfort and style matter. Our poly, stacking church chairs are great for quick deployability and affordability. We offer our world-class Warranty. with all our stackable church chairs and will serve your needs for the long haul. Let ComforTek supply you with stacking church chairs to better equip you for the many activities you desire to hold.
Stackable Church Chairs with Quick Shipping
ComforTek has made over 3.5 million chairs and proudly serves our many communities of faith around the world. Whether you need stackable church chairs for a smaller church or are outfitting a much larger church theater, ComforTek can exceed your expectations.
If you have any questions about ComforTek's line of worship seating solutions, feel free to contact a sales rep today at 1-888-678-2060.