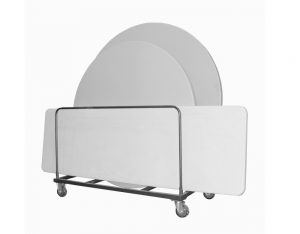 Folding Tables for Churches
The church chair's most common companion is the church table. You might be conducting a Bible study where students take notes, or you might be holding a potluck dinner where guests will enjoy a meal together. Regardless of the occasion, you want the same level of quality and utility out of your folding tables that you expect from your chairs.
Types of Church Folding Tables
ComforTek offers superior construction with lightweight design in all our blow-mold tables. Held up be steel tubular legs, all ComforTek folding tables are constructed with tough poly plastic that are blow-molded which makes for easier lifting and solid support. We designed our legs with gravity locks for stability when setting up. The bottoms of the legs are capped with plastic castors to protect your flooring or carpeting. Finally, all tables come with ComforTek's world-class warranty.
ComforTek also offers accessories to assist you in transporting and storing your folding tables. The SW60 Table Dolly gives you the ability to transport 10-12 tables safely around your church. The dolly is also built to transport any of our church tables, regardless of size.
Why to choose Blow Mold Folding Table at ComforTek?
As you give thought to how you might provide seating solutions for your church, don't forget about folding tables. Let ComforTek provide you with the reliability and affordability you seek to accommodate the many events your church seeks to host.
If you have any questions about ComforTek's line of worship seating / table solutions, feel free to contact a sales rep today at 1-888-678-2060.