When selecting new chairs for your church, durability may not be your only concern. Of course, you want your investment to last, but you may also want to reduce your environmental impact by choosing a sustainable chair option.
The problem is that the word "sustainable" is a bit ambiguous. Let's take a closer look at what makes a chair sustainable and how this concept fits into the chair-buying process.
What is a Sustainable Chair? Understanding the Concept of Sustainability
A sustainable chair is one that is made using materials that are considered "sustainable." These are materials that are renewable and have a lower environmental impact. They can also include chairs made from recycled materials or locally sourced materials with short shipping distances.
There are several chair materials that are considered sustainable, including:
Eco-Friendly Chairs: How to Identify Them and Their Benefits
Now that you understand what a sustainable chair is, let's look at how to identify eco friendly chairs and understand their benefits.
To identify eco friendly chairs, consider the following:
The materials used. Is the company using sustainable materials to create its seating? Consider all components of the chair, from the frame to the fabric.

The longevity of the chair. Even if a chair is made with less environmentally-friendly materials, it may still be considered eco-friendly because of its long lifespan. 

Certifications. Manufacturers that are committed to being eco-friendly and sustainable will often have certifications that verify their claims. 
Taking steps to identify and choose eco friendly chairs can have many benefits for your sanctuary. These benefits include:
Lower environmental impact 

Better indoor air quality

Helps prevent deforestation
Eco-friendly chairs are just as long-lasting as those that are made with less environmentally friendly materials, so they're more affordable in the long run.
Is Wood a Sustainable Material for Church Chairs? Exploring the Pros and Cons
When searching for ecofriendly chairs, you may be wondering whether wood is a good material choice. 
It's often at the top of the list for eco-friendly materials, but why is wood a sustainable material?
Why is Wood a Sustainable Material for Church Chairs? The Environmental and Economic Benefits
Wood is a sustainable material because it's renewable. When a tree is cut down to make wood furniture, another tree is planted in its place. 
The process of drying wood for production is also an environmentally friendly one, although the process of cutting down trees and shipping them isn't ecofriendly. Still, wood is a long-lasting material, and it offers many advantages.
Our sanctuary chairs, for example, feature plywood seats and backs that offer extra support and durability while being sustainable.
But what about rubber wood? This material is a popular alternative to traditional wood, and it does offer many benefits. But is rubber wood sustainable?
Sometimes. The answer ultimately depends on the producer. If the trees are planted and harvested appropriately, then rubber wood can be a sustainable material. 
Rubber wood is often derived from plantation trees that have already served a purpose, so they are considered environmentally friendly because they help reduce waste.
Wood and Plastic Chair: Which One is More Sustainable?
If you're debating between plastic and wood chair, you may be curious about which one is more durable and sustainable. Wood remains one of the most sustainable materials in the chair-making industry.
You can harvest and replant trees.
However, when comparing the difference between a wood and plastic chair, you must also consider:
Wood is a much heavier material, so transportation will use more fossil fuels

After wood's lifespan, it's easy to repurpose it

Plastic is a lighter material in terms of weight, making it easier to transport and less impactful on the environment

Plastic doesn't result in natural resource loss, but it must be disposed of properly so that it doesn't enter waterways or other natural habitats
In terms of pure sustainability, wood is the better option because after a tree is sourced for materials, it can be replanted.
Our high-density stacker chairs have molded polypropylene seating, which means that they will last for many years to come.
Durability vs Sustainability: Finding the Balance in Church Chair Design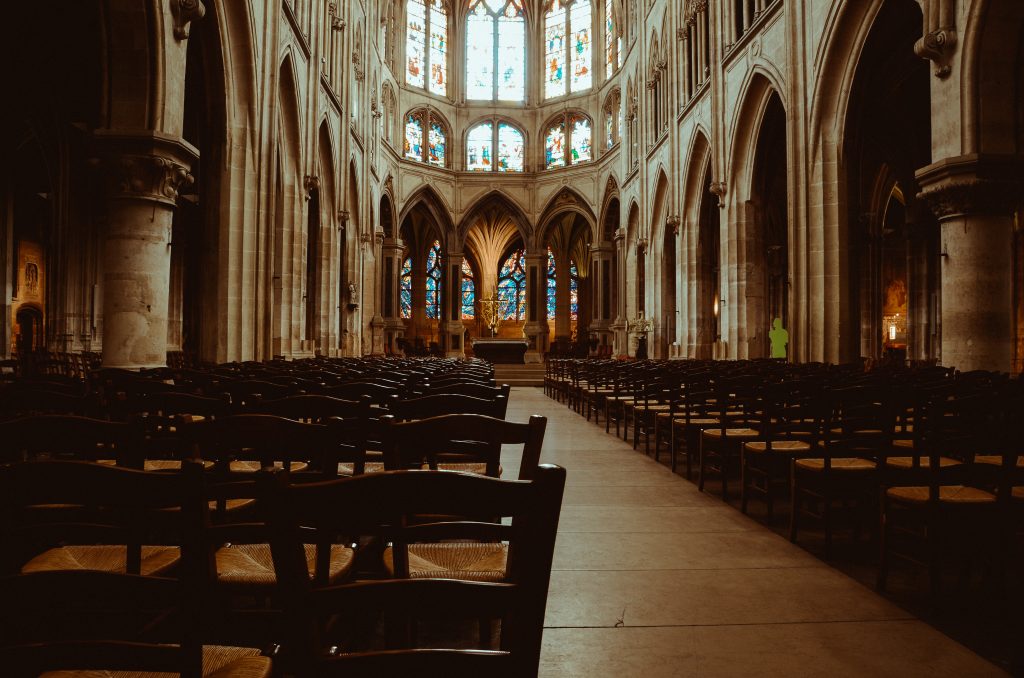 A sustainable chair must also be durable. If the chair isn't durable, you'll need to replace it prematurely, causing more waste in the process. We diligently develop our chairs to be the perfect balance between durability and sustainability.
How?
When steel framing is used in our chairs, it allows for a frame that provides a lifetime of durability. As one of the most durable metals on earth, steel will be able to withstand the weight of congregation members year after year.
Plywood is then used on the backing and seating (non-stackable).
Responsibly harvested wood allows us to mix the benefit of steel with the sustainability of wood for the perfect balance of church seating. Our stackable chairs offer a plastic seat backing to allow for chairs to be confidently stacked without the risk of breakage in the process.
We make a commitment to provide as safe and sustainable of chairs as possible to our customers.
All of our chairs are also MAS Green Certified.
The Importance of Maintenance in Prolonging the Life of Church Chairs
Maintenance is one of the only ways to prolong your chair's lifespan. Auxiliary and sanctuary chairs can last 10+ years without ever needing a repair. However, you can do a few things to prolong the life of your chair, such as:
Inspection

: Be sure to inspect your chairs on a regular basis. You should look for key issues, such as loose bolts, which can cause uneven weight distribution and potential chair breakage. You'll also want to look for rips in fabric or loosening fabric.

Tightening

: If you notice any loose hardware during your inspection, be sure to address the issue promptly. Tightening the bolts or securing the chair in other ways can prevent any damage from occurring.

Cleaning

: One of the reasons churches swap out their chairs is because the fabric becomes worn or stained. If your church follows a strict cleaning routine, you won't need to worry about premature chair replacement.

Limit UV Exposure

: Class 4, 40 fabrics are exceptional at preventing UV damage, but the sun always

wins

. If you want to keep your fabric looking its best, be sure to keep it out of the direct sunlight. Even some artificial lighting can cause the fabric to fade.
Maintaining your church chairs is a major commitment, and it can be easy to overlook your maintenance tasks until an issue arises. Instead of risking your chair failing before its natural lifespan, create a maintenance schedule.
For example, you may:
Check each chair for potential issues on the first and third Friday of every month.

Hire someone to inspect and maintain the chairs on your behalf.
Our chairs come with an extensive warranty program, which guarantees steel-frame chairs for the lifetime of ownership (where noted) and includes coverage for the foam, upholstery and more.
If you maintain your chairs properly, you'll have peace of mind knowing that they'll last longer and be well-maintained for your next service.
Summary
Your sanctuary deserves to have sustainable chairs that last long and provide comfortable seating for your congregation members. Steel, plastic and wood chairs offer you many seating options that are long-lasting, comfortable and meet the needs of your church.