8831 Crown Back Banquet Chair
Crown back, 18″ wide
Versatility meets elegance
The 8831 Banquet Chair is the ideal chair for banquet halls, Sunday school rooms or even overflow seating. The elegant back frame provides a handhold for easy handling without touching any fabric.
•  Fully Assembled
•  2" Foam Seat Cushion
•  Handhold – For Easy Transport
•  Nylon Rocker Glides
•  "T-Nuts" & Bolt Assembly
•  Stacks 10 High Safely
For a complete list of features, please see 'Key Features' tab below.
Ideal for: Banquet Halls, Sunday School Rooms and Auditoriums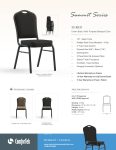 SS-8831-Banquet-Chair.pdf