Church seating options are a major consideration and one that must be taken seriously. In the guide below, we're going to outline the multiple church chairs types and how to choose the right seating options for your sanctuary.
How to Choose Church Chairs?
Selecting church chairs is one of the biggest decisions you'll have to make when designing or redesigning your space. Here are a few things to consider when trying to choose your chairs:
Budget

: What budget do you have for your chairs? You should sit down and come up with the number of seats you'll need, your per-seat budget and your total budget. When you have a budget in place, you'll have an easier time selecting chairs to fit your needs.

Stackable

: Do you want stackable chairs, or do you need them? It's often better to choose a stackable option because it offers the most versatility for your church.

Size:

Chairs come in multiple widths, and you may need a variety of chair sizes to meet the size of your members.
However, on top of this, you'll want to consider the two main chair types and a few extras to better understand whether you should be looking through pews or church chairs options.
What Can Church Seats Be?
What are your seating options for your church?
Church chairs types cannot be mentioned without mentioning pews. A pew is one of the most iconic seating styles in churches, and they're:
     

Made from solid wood

     

Long and heavy

     

Durable enough to last for decades or hundreds of years

     

Low-maintenance and durable
Selecting a pew is a difficult choice because you'll find a wide range of options that offer little flexibility. Some manufacturers are offering padded options to make pews more comfortable, but there is one thing to remember if you purchase a pew: they're not versatile.
It will be very difficult to find space to store a pew or to rearrange your space if you have pews.
Selecting sanctuary chairs is another solid option, and it allows you to enjoy a few key perks that are not found with pews:
     

Lower overall price

     

Options with and without arms

     

Interlocking capabilities

     

Stacking options for chairs
If you may want to rearrange your space in the future for any reason, it's almost always better to choose a church chair rather than a pew. Church chairs are a far more flexible option compared to a pew, but if you just want the space for worship and have no plans to group people or offer a space to eat together, pews may suffer.
Stackable seating is possible with chairs, and this allows you to maximize space when the chairs are not in use. Many of the chairs in our catalog allow you to stack them 6 – 8 units high. If you ever want to rearrange the space, stacking allows the chairs to be placed in a corner or separate room with greater ease.
Pews cannot be stacked in this manner and are heavy, making storage far more challenging.
Interlocking
Church seating options can also be very similar to pews. You can interlock chairs together to make neat, concise rows and make it more difficult for church members to get out of alignment.
Interlocking chairs are a great option for churches and work to keep seating organized.
Additionally, these interlocked chairs can also be unlinked, stacked and put away in a manner that is impossible to mimic with a pew.
Padded
Comfort is king for church seating, and chairs have multiple padding options to reduce pressure when seated and make worship more comfortable.
Church chairs with arms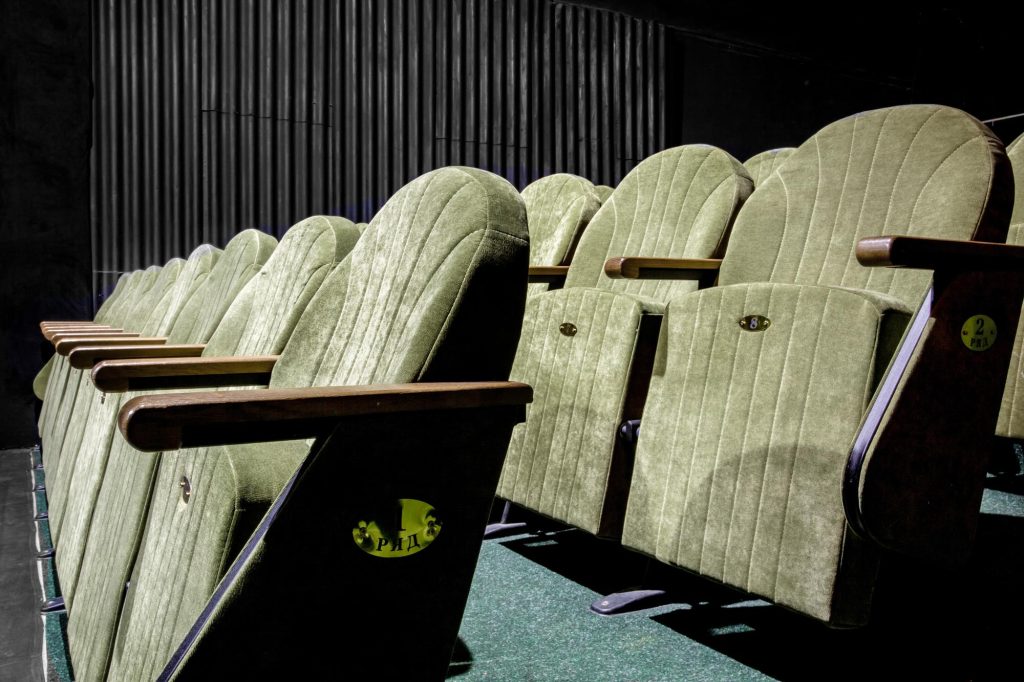 Finally, one of the church chairs options to consider is arms on the chair. Arms add to the overall comfort of the chair, but they also serve the purpose of making it easy for:
Older people or those with disabilities to sit down

People to stand up out of the chair
A general rule of thumb is that if you have a budget to accommodate chairs with arms, it's something that you should consider.
Summary
You have a lot of church seating options to choose from, but the ones above are the most common. Sanctuary chairs are by far the easiest choice for new churches because they're lighter, easier to store and come in a wide range of options.